Professional Makeup Train Case Reviews
Here you'll find our reviews of the top brands of professional makeup train cases based on size of unit, storage capacity, functions, compartments, locking feature, weight, material and prices to suit every budget.
Your new makeup case will help you:
* to see what you have
* use what you have
* get rid of expired products
* reduce buying products you already have and just can't find them quickly
* keep your beauty supplies clean and organized
Wonder which makeup case I bought for myself? Read on, I share that with you below!
What you can use it for: for makeup, skin care, nail care, hair supplies or jewelry for business and to get organized at home with all your personal items in one spot!
One of my jobs is as a makeup and skin care specialist and I needed to hold all my essential supplies to take on appointments to clients' homes. A train case is also awesome to hold all your personal beauty supplies in one place so you can see it all at once and know what you have.
I wanted a professional case so everything was together and I could quit being a bag lady!! Before I had a Professional Makeup Train Case, I'd usually have two tote bags, one large clear tote container and a box of essentials plus my purse..... That's too much baggage to carry into a client's home for an appointment and didn't help my own image, let alone showed how unorganized I was!
If that sounds similar to yourself, you'll want your own professional makeup train case too if you want to look like an expert in your field, be organized and have everything at a glance to be efficient and make the most of your time and your client's time.
Get Organized with your own Professional Makeup Train Case
Heavy Duty Case - I love this Rolling Case - see the details below and read on further to see if this is the one I chose for myself!
My image improved as well as my self confidence and therefore my business results once I switched from carrying multiple bags to one simple contained unit for all my essentials. I'll bet it can do the same for you and your business too!
Heavy Duty High Quality Professional Rolling Train Cosmetic Makeup Case Silver
* Use as one large makeup case or 3 smaller individual cases for traveling
* Aluminum body isn't too heavy to carry although note* it can get very heavy once fully loaded with supplies!
* Top lid is removable and adjusts to any of the pieces
* Comes with a second lid
* Soft lining on each of the dividers and the bottom of each compartment
* Each case locks in place and all the cases lock together for security
* Telescoping handle makes this makeup case easy to take with you for professional makeup or skin care sessions
* Versatile uses also include nail care or jewelry organization
* Dividers in each case create compartments in any size you could need
* Total makeup case measures 34 3/4" tall, 14 1/4" wide and 9.5" deep
* Affordable price at less than $100!!
How my own professional makeup train case helped me
Two ways my new unit really helped me a lot are:

1) I was in charge of setting up the weekly meetings with my group in my skin care business and had to bring the supplies for demonstration as well as set up the display and provide the paperwork. My old way of doing it was to simply carry multiple bags and boxes or totes and make loads of trips to my car to offload and then set up. Yikes, it took long and was hard work to do alone! Once I had my new organizer, it was only two trips to my car at best and the set up was so much faster, smoother and easier. I looked better to the people in my group that I was mentoring too!

2) On vacations with my parents. My husband and I took yearly vacations with my parents until a few years ago when they finally stopped wanting to travel much:( On those trips, we had so much fun hanging out and spending quality time together. I loved teasing my dad about how many beauty products I brought along even though my suitcase included way more than I needed plus other heavy items. Dad always thought I was just a natural beauty without needing much help. I miss those vacations and laughing so much. My parents liked my new case that rolled alongside me with ease!
Why not share what you need to organize in your new case and if you need it for work or business or for home use! - Do you have lots of everything! or makeup, hair care or both?
NYX Artist Case - 3 Tier Stackable Black and White
I wondered if this type of case would be good for me since I have so many heavy items I take along with me on appointments and found these features worth a consideration:
NYX Makeup Artist Train Case, 3 Tier Stackable Black/White
* NYX Makeup Artist Train Case is made of a soft material that is lightweight
* Offers 3 partitions and zippered compartments to take all together or each piece alone on appointments for professional makeup artistry
* Stackable containers are easy to mount to each other and easy to remove when needed
* Plenty of room to hold all your makeup, hair or nail essentials for business or home use
* Telescopic handle allows easy carrying
* NYX Makeup Artist Train Case is a Customer Favorite
Nylon Rolling Case - Jet Black - Click to see photos of this carrier you'll love!
More and more customers are choosing this nylon option that doesn't start out heavy to begin with so after filling isn't too difficult to move simply because of the weight of it! If you carry a lot of heavier products, check out this makeup case.
26.5 inch 2 in 1 Black Soft High Quality Nylon Professional Artist Rolling Wheeled Trolley Makeup Train Case Cosmetic Organizer w/Shoulder Straps
* Made of nylon so this professional makeup train case is super lightweight
* Very highly rated by customers in the beauty business, hair business and for home use too
* Rolling wheels make this makeup case easy to travel with for work or vacations
* This professional makeup train case is two cases in one
* Offers lots of separate compartments and brush holder with clear window for easy viewing
* Offers shoulder straps as an optional carry bag
* L shaped retractable and telescoping handle
Shany - Pretty Pink Diamond Pattern
This one is not only great for a business person but, think of how nice it would be to take on vacation having all those essentials in one simple carry on. * On one vacation with my parents one year before I had my own case, I packed beauty items along with me in a suitcase of clothing and teased my dad that I needed a few beauty items when he remarked at how heavy my bag was! I was teasing of course since that same bag had shoes and other heavy items included too:)
SHANY Premier Fantasy Collection Makeup Artists Cosmetics Train Case - Pink diamond
Packing all your beauty supplies is so much easier in one contained unit like this simple yet effective Pink Diamond Makeup Train Case. Minimize packing up your car with loads of bags or boxes or just organize your own bathroom with everything you need to get ready every day. You'll find you buy less products when you can see and use what you have!
NYX with Lights - Click to see how this unit looks when fully opened - what a nice surprise!
Take your business on the road anywhere you're traveling, always the professional, with this popular unit!
NYX Makeup Artist Train Case with Lights, Extra Large Black/Silver, 1 Ounce
Seya 3 in 1 Organizer - Silver or Black Crocodile options look professional and are easy to clean
I must admit that this option was a serious contender while doing my own search for which one to buy!
Seya 3 in 1 Pro Rolling Makeup Case (Silver)
* 3 separate compartments for multiple sized makeup palettes, brushes and all the tools you need
* Expandable top section allows for fast and easy viewing and access to makeup essentials
* Bottom compartment is large to hold larger products or even a gift basket for your client!
* Telescoping handle is easy to open or close
* Lock and key for security
* Measures 29" tall, 13.75" wide and 10" deep
* Cost is less than $150 - Click to see Sale Price!
"Every girl and woman that loves skin care, makeup and hair care products would love a gift of a makeup train case for organizing all her supplies for home too, so consider one for the perfect gift for that special lady on your list."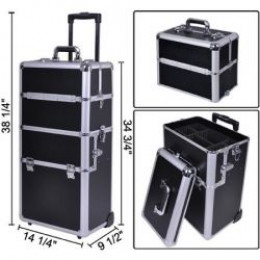 The Professional Makeup Train Case I Chose - Click the photo for more details and images.
Which color is your favorite? Let us know with a comment below!
This is the Heavy Duty option and the one I chose for myself. It works for me, it's the perfect size. I love all things organized and easy to find plus, easy to store - this works great and was everything I was looking for. I love that it separates into three compartments so if I'm just seeing one client and only need makeup, I can take the top container. Each individual unit has plenty of dividers too so I can easily create the perfect sized organization area for brushes that are longer and those tiny items too such as individual eye shadows.
When and if my inventory changes, it's super easy to change out the dividers too.
The bottom storage area is great for all my larger bottles of skin care, bath or body products or wellness items. It's so much easier to load one large case than to have all those bags, containers and boxes I used to use! You'll be surprised at just how much can be stored and organized in this beautiful, sleek makeup case. I sure was!
It's a breeze to carry since no matter how many of the cases I use on any particular day, the wheels and handle take a lot of weight off my back and shoulders. Plus, I not only feel more professional going to offices or attending shows and events but, it looks better too!
Every girl and woman that loves skin care, makeup and hair care products would love a gift of a case for organizing all her supplies for home too, so consider one for the perfect gift for that special lady on your list. That's what I plan on using mine for when I'm done using it for my business. Each individual case can hold all the items needed for hair, skin care, personal care or makeup so it's the perfect way to get the bathroom cabinets cleaned out, sorted and organized too.
I hope you'll find the
best professional makeup train case
for your own use or to give to someone you love, she's sure to love it!